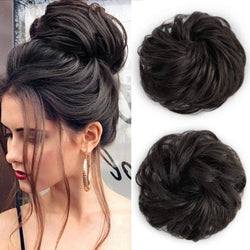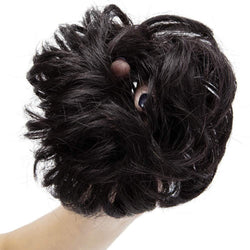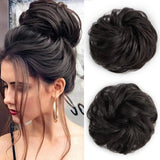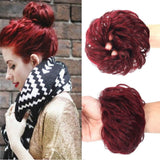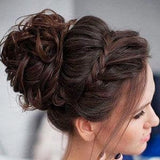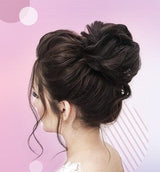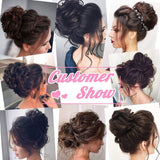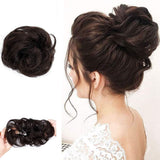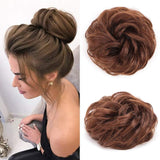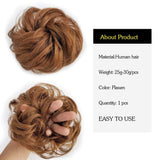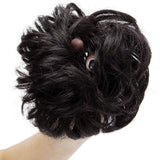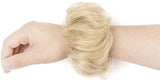 Brazilian 100% Human Hair Curly Messy Bun Scrunchie Updo Hairpiece
100% Brazilian Human Hair Curly Messy Bun Scrunchie Updo Hairpiece Add Instant Volume to Hair The Best Quality Real Human Hair Messy Bun
Washable but do not use curling irons, blow dryers, or hot styling instruments.
Adjustable size fits for most people, good elasticity, can be adjusted easily to work for the thin hair, medium hair or thick hair. Just slip your own ponytail into a bun and wrap elastic bun around for an instant hair boost! Provides secure yet comfortable attachment for all day wear
Perfect for adding volume and fullness to a bun or a ponytail, 25 gram/piece.
Suitable for Any Occasions: With this human hair bun, you can style an updo in just minutes and turn any day into something special.
Can this hair bun be dyed and permed?
Yes, of course! Unlike the synthetic hair, real human hair can be dyed and permed normally. However, it should be noted that only the hair is completely cool and the dye is completely solidified can you continue to wear the extension.
Care Tips
Just like your own hair,. The fiber should be washed as infrequently as possible or when you notice that the fiber appears dull. You can wash them after 4-6 wears. Before shampooing, gently remove any tangles or teasing with your fingers or a pick comb. Pick the hair from the ends and work your way up.
1.Wash with cold water.
2.Add a dash of shampoo and wash gently.
3.Rinse thoroughly in warm water, again working from the top down.
4.Never twist, wring, squeeze your hair extension, allow it to air dry.
5.Do not use curling irons, blow dryers, or hot styling instruments.