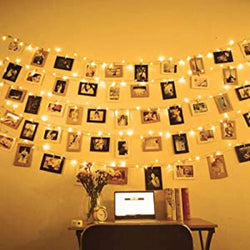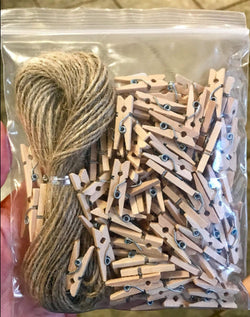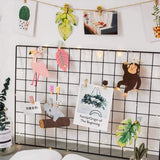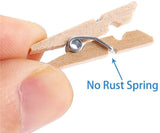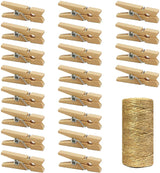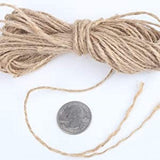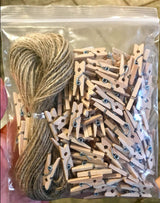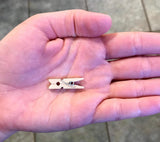 Natural Wooden 1 Inch Mini Clothespins with Jute Twine, Photo Paper Peg Pin Craft Clips
1 Inch Mini Natural Wooden Clothespins with Jute Twine, Photo Paper Peg Pin Craft Clips with Natural Twine for Scrap-booking, Arts & Crafts, Hanging Photos
Small wood clothespins measure approx. 1" (L) x 0.35" (W) x 0.12"(H).
Comes in sets of:
120 pieces with 33 Feet of Twine
250 pieces with 66 Feet of Twine
400 pieces with 66 Feet of Twine
250 Mixed Colors pieces with 66 Feet of Twine
HIGH QUALITY: Mini wooden clothespins are made from natural wood with an environmental wax coating. Galvanized (non-rusting) metal wire springs for added durability and longevity. Lightweight, versatile and sturdy.
REUSABLE: Comes in a neat frosted zipper bag so you can keep the extra pins and unused twine. Perfect as decorative photo clips to hang photos or to hang gift cards, small notes or kids' drawings.
MULTI-PURPOSE: Great for all creative projects including craft projects, school projects, scrapbooking, photo wall decoration, home and office decorations, Christmas tree embellishments and more!
NOTE: These clothespins are not meant for hanging laundry or clothing.
You can also paint these pegs to the colors you like.
The lovely clip use for photo, paper, clothing, etc. Great for party, crafts, gifts or cards, wedding showers, baby showers, doll house displays, etc.
Light, stable, durable and multi-duty.