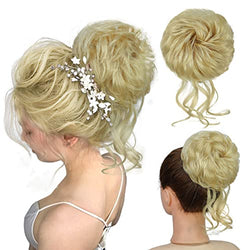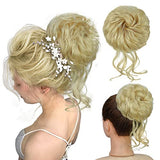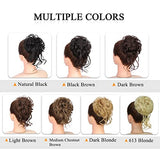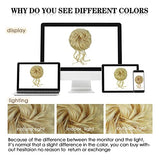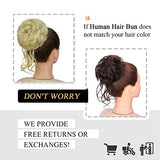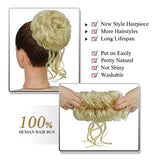 100% Human Messy Hair Bun Scrunchies Ponytail Extension Human Hair Tousled Updo Chignon Hair Piece (613# Blonde)
You just can't put a price on a good hair day. Our Messy Bun has been shown to give you the perfect results every-time for you to Rock Your New Messy Bun Look.
Made of high-tech natural heat-resistant synthetic fibers, The Bun is designed to fit all hair types (even thin and short hair) to give you the perfect boost of confidence wherever you go.
Designed to fit all hair types
Wear it comfortably at work, at the gym, weddings, nights out, dates, and even when traveling to enjoy a good look all day, every-day!
Simply tie your hair into a bun, twist the Bun around your hair and style as you desire. Simple and gorgeous.
Messy Bun Thick 100% Human Hair Scrunchie for Women, young Adults, Teen and Pre-Teen Girls Curly Wavy Messy Bun Juva Bun Extensions for Thin Hair Synthetic Chignon Hairpiece Updo Donut Chignons Cat Ear Buns
Full in Volume - Messy look, fashion trending, super fluffy and natural look, easy to blend with your own hair. More volume is added to the bun so it will be thick enough to make a nice bun on top of your head.
Natural Texture - High quality Human Hair is used when designing hair wrap to ensure durability and a natural hair look and feel. Using a top quality fiber ensures that there is no odor and that it has a soft matte finish and not shiny. Every Woman Need These Easy to Use Beauties in Her Wig Closet Yesterday!
Durable in Use - With proper care and maintenance the durable elastic rubber bands inside your new Messy Hair Chignon will provide you with a long life of service and enjoyment as you use it to get the latest trending style. Try two today using the New Cute Cat Ear Buns Hairstyle that is storming the internet influencers and YouTube Stars.
Easy to Use - Just tie your hair into a ponytail or bun and then wrap scrunchies around your hair, within 30 seconds you will have a new look. You can create so many cute and charming hairstyles in just a few seconds with it. When you get up late and have no time for styling, just wear a bun. Your new Scrunchie will fast become your goto choice for lazy days.
Suitable for All Kinds of Occasions - You can wear a bun in your daily life for school, work, or proms. Perfect choice for Daily Wear, party, fancy dress, Holidays, Role play, Night Out, Cosplay, Fashion, Special Occasion, A quick and Easy hairstyle for teens and young girls for school pictures or activities.
Get Your Gorgeous Messy Bun Look In Seconds!
How To Use A Messy Bun
The Bun will hold your hair in place while getting instant hair volume with natural looks that will hold all day long.
Forget about all the money and time wasting on professional hairdressers for professional updo results as you can now do it in seconds with your own Messy Bun Magic!
Easy & Fast To Use
Gives You Instant Hair Volume
Unnoticeable To Others - Looks Like Your Real Hair
Fits All Hair Types - Even Short And Thin Hair
Doesn't Affect Your Hair
Reusable & Easy To Clean
Frequently Asked Questions:
+ Can Messy Bun products be washed?
Yes! You can wash Messy Bun products with hair conditioner/shampoo in cold water. Just insert your extension into cold water and soak for about 5 minutes.
We recommend washing them every 10 uses or once a month.
+ Can the bun be brushed or combed easily?
Yes! It glides easily through the hair.
+ Do I need to style it?
You don't need to style it. It comes already styled as shown in the pictures. Just make a regular hair bun, then put the French Girl Style Messy Bun around your hair. Not only do you not need to style it, but it will also make your hair look fuller and nicer!
+ I have thin hair, will it fall out?
Nope! You may need to double it around more than once but it will definitely not fall out. It's on a hair-tie, so you can double it as if you were wearing a ponytail holder.
+ Do I make a bun with my own hair and then attach it over?
Exactly! Just put it on like you would a hair tie or scrunchie once you have made a ponytail of your own hair. Depending on the length of your hair you may have to wrap more than once for the perfect fit
Details:
Diameter Length: 5.5 inches
Heat Safe: Heat resistant up to 180 degrees Celsius
Type of Hair: Real Human Hair Bun
Hair Care Tips:
Let the long messy bun hair piece air dry, do not use a blower. Can use a towel to absorb most of the water first. Do not overexpose to the sun for a long time.

Apply hair care oil to the hair extension can keep the long bun hair pieces glossy

About storage, it is better to keep in a ventilated plastic bag or box, do not fold.

Do not wash human hair bun extensions too often, wash it after 10 times wear or once a month is enough.

Use a comb or your hand to detangle the long messy bun hair piece long sleeve gently.
Reminder:
After receiving your Human Hair Messy Bun, please shake it gently then comb it with your fingers then it will look full and natural.

Spray some conditioner when it gets dry or oiled.
Each piece is handmade, with slight color differences due to different production batches. Can be Permed, Washed and Colored (except dyed dark color into lighter does not work well).