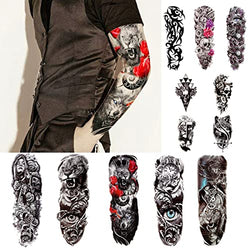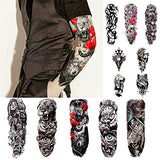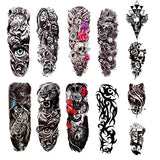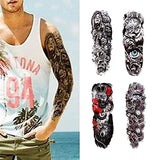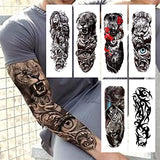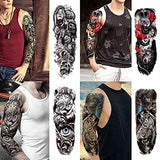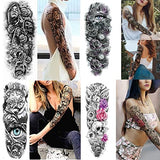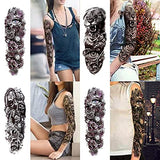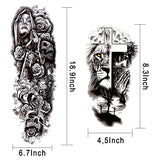 Temporary Tattoo Sleeves fake tattoos that look real and last long 12 Sheets
As Shown Set of Full Arm Temporary Tattoo, Sexy 3d Fake Tattoo Stickers Extra Large Long Lasting Waterproof Moon Leopard Tattoo Sleeve, for Arms Legs Shoulders for Adult Woman Man Kids Teens Fashion Body Art Also Easy to DIY Crafts
🏹[ Full Arm Super Large Size ] Temporary tattoo 17*48cm/6.7*19" extra large size can cover the entire arm
🏹[ 3D Pattern and Non-toxic ] This high quality tattoo stickers using the safest raw materials and the most high-end printing technology. The pattern is clear and does not cause allergies
🏹[ Waterproof and Long Lasting ] You can take bath without worrying about washing out the pattern. Full sleeve temporary tattoos for men and women last for 3-8 days. You can also use body oil to remove the fake tattoos at any time
🏹[ All People Suitable ] Temporary Tattoos suitable for children, adults and teens. Wear temporary tattoos whenever and wherever you want! Great for Halloween costume, gym, party, punk party, tattoo parlor photo session, club, carnival, traveling, wedding, dancing, swimming the beach, festivals, vacations, concerts, pool, beach, dinner dress, music festival, bachelorette parties and more. Suitable for pool party, masquerade, night club, beach, wedding, costume, festivals, carnival, vacations, birthday, holiday, music festival, cosplay, parade
🏹[ Easy to Operate ]
It only takes a few steps to have a realistic tattoo.
Put the sticker on the body.

Soak the backing paper completely with water.

Wait for 40 seconds and then remove the backing paper.

You have the coolest tattoo
🖤 Realistic Fake Tattoos With No Pain Fake Tattoos Temporary Sticker Set Looks Real On Any Part Of Your Body Like Arm, Finger, Thigh, Leg, Forearm, Hands, Shoulder, Neck, Chest, Breast, Ankle, Back, Waist, Wrist, Face, Ears, Feet And Scar Cover up. They Are Nontoxic Ink And Safe, Even No Worries To Used On Kids, Boys, Girls, Child, Lady, Female, Teenagers Without Suffering Any Pain. Tattoos Are in Compliance with FDA standards, Safe to use.
🖤Great For Almost Any Occasion As Beach, Gym, Party, Club, Halloween Tattoos, Costume, St. Patrick's Day, 4th fourth of July, American pride day, Day of the dead, Pride Day, Electrical Syllable, Wedding, Festivals, Vacations, Concerts, Music Festival, Birthday, Children's Day, Fun, Christmas, Xmas Gifts, Home Decoration, Ornament, Even Home Décor, Fridge, Closet, Stereo, Crafts, Cups, Cabinet, Bottle, Table, Desk, Car, Phone Case.
🖤 Various Styles Available Like Real Tattoo Fashion, Vintage, Sexy, Cool, Black Tribal Temporary Tattoo, The Perfect Disappearing Body Art. Use for Cosplay, Halloween Costume, Summer Beach, St. Patrick's Day, Party Tattoo Favor Supplies, Festivals, Easter,4th Fourth Of July, Day Of The Dead, Pride Day, DJ, Night Club, Christmas Gifts, Xmas, Gym, Wedding, American independence day, bachelor parties, Graduation Season, Carnival, Styling Tools, Punk, Makeup Tips, Rock, Beauty, Fake Jewels, Coffee Cup, Bottle Décor, BBQ, Crafts.
🖤SAFE FOR ALL SKIN FULL ARM SLEEVE TATTOO large for full arm temporary tattoo which are printed with non-toxic ink. Your friends will think you took a new tattoo! Great fun for parties, special events Also for testing how a real tattoo looks like.
🖤AFFORDABLE EXTRA TEMPORARY TATTOOS WITH NO PAIN If you've wanted a tattoo but worried about the pain and cost, now's your chance! Apply these body stickers in seconds and no-one will believe they're not the real deal.
🖤DURABLE, WATERPROOF & REMOVABLE Long last for 3-5 days, depends on how many showers you take and how many times you scrub the tattoo with soap and water, Easy to apply in 10-20 seconds with just water and easily removed by rubbing alcohol, body oil, olive oil.
🖤It can be used not only for skin, but also for marking or decorating objects. Huge range of uses Water transfer stickers can also be used on ceramics, glass, cloth, metal, wood, plastic and other items to beautify life