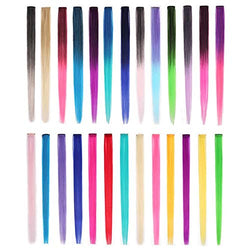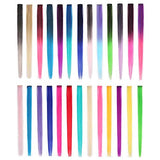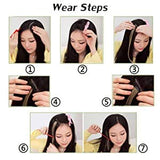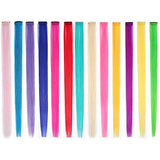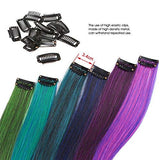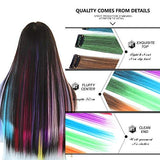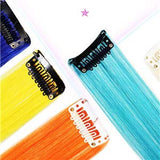 Stunning Colorful Straight Clip in Hair Extensions Clips 26 Multi Color Set 22 Inches Long
Stunning Colorful Straight Clip in Hair Extensions Clips 26 Multi Color Set 22 Inches Long
Total of 26 wonderful colors hair extension in set clip-in/clip on colored hair extensions, 1 piece with 1 clip attached and very easy to apply.
Hair Extensions  are in its natural status and have never been chemically processed so there will be no harm to your hair or scalp and no bad smell.

Length 22 inch, width 1.3 inch, weight each pieces 6g. Each Clip Hair Extension Comes in Its Own Plastic Bag, Clean and Tidy.

13 Pure Color: Yellow, dark purple, dark blue, Light purple, fruit green, jewelry blue, sakura pink, princess pink, wine red, peach blossom red, fluorescent green, china red, mint blue, orange, luxury gold color, rose red.

13 Gradient Color: purple gradual change light purple, black gradual change rose red, rose red gradual change purple, black gradual change purple, black gradual change jewelry blue, jewelry blue gradual change mint blue, peach blossom red gradual change sakura pink, purple gradual change peach blossom red. light purple gradual change sakura pink

Clip In Hair Extensions are made from Top Quality Heat-Resistant Synthetic Hair so You can Curl and/or Straighten them as you desire to Create Any Style You Want According to Your Needs.