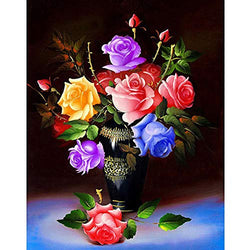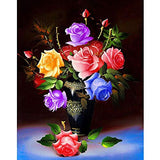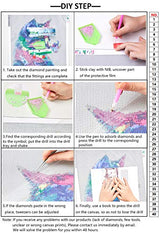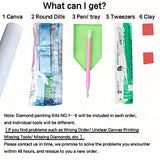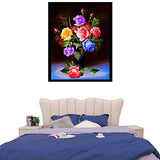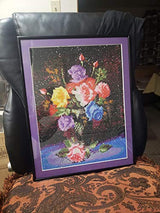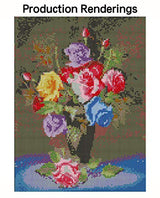 Colorful Roses DIY 5D Diamond Painting Full Drill Round Rhinestone Embroidery Cross Stitch Art Home Wall Décor
Colorful Roses DIY 5D Diamond Painting Full Drill Round Rhinestone Embroidery Cross Stitch Art Home Wall Décor 
ADD MORE FUN TO LIFE - DIY Pasting Area: 11.8x15.7inch/ 30x40cm, Canvas Size: about 13.3x17.3inch/ 34x44cm, Diy diamond painting can experience a sense of achievement, learn to reduce stress, emotional adjustment, enhance self-confidence and perseverance cultivate patience, the elderly and children are suitable

CANVAS WALL DECOR - High clear oil painting canvas is waterproof and even texture, the pattern itself has a sticky background and plastic protective film to keep the picture sticky, so that you could easy to complete the picture.

SUPER FLASH DIAMONDS - There are 17 square sections above the round drills to look shiny and will be never fade, more vibrant and brilliant than the resin diamonds. Shining in the light, is the most popular DIY decoration.

UNIQUE BEAUTY AND FASHION DESIGN - If you think the decoration of your house is insipid and ordinary, our Cross Stitch Diamond Painting Kits can help you to make your drawing room, bedroom and other places become vivifying.
 BRIGHT AND VIVID COLORS: The painting is very vibrant with vivid colors that will not fade over time.

MATERIAL: Canvas, round resin diamond, painting mud, Environmental hot melt adhesive paste is sticky enough to pick the gems up.
The painting canvas is waterproof and has a sticky background so that you could easily complete the picture.

A LOT OF FUN: You can spend a special night with the family to DIY the diamond painting, This is a very addictive product, Even if you have no basis for painting,this craft is easy to learn.

SPECIAL AND UNIQUE GIFT - The diamond painting is a special and unique gift that is sure to be cherished by all

CONTAINS EVERYTHING NEEDED TO START - The package will come with all the tools needed to complete the diamond painting and a extra 20% more diamonds to ensure you have more than you need., except to the most practiced eye.

BRIGHT AND VIVID COLORS: The painting is very vibrant with vivid colors that will not fade over time.

MATERIAL: Canvas, round resin diamond, painting mud, Environmental hot melt adhesive paste is sticky enough to pick the gems up.
The painting canvas is waterproof and has a sticky background so that you could easily complete the picture.

A LOT OF FUN: You can spend a special night with the family to DIY the diamond painting, This is a very addictive product, Even if you have no basis for painting,this craft is easy to learn.

SPECIAL AND UNIQUE GIFT - The diamond painting is a special and unique gift that is sure to be cherished by all

CONTAINS EVERYTHING NEEDED TO START - The package will come with all the tools needed to complete the diamond painting and a extra 20% more diamonds to ensure you have more than you need.

What is inside the DIY DIAMOND PAINTING KIT?

✔ High-Quality Canvas with the design printed with color/symbol codes finished with a coating of high strength adhesive.

✔ Resin Rhinestone " Diamonds " in small individually separated color packets in the required quantity to fill the design (larger size canvas will have more colors).

✔ Pen applicator with a soft grip to pick and place diamonds on the canvas.

✔ Tray with grooves to pour and sort diamonds and pick them as single or multiple diamonds.

✔ Wax Glue is filled in the pen nib to make it easy to pick up the diamonds from the tray.

If this is your first project be sure to READ the detailed HOW-TO-INSTRUCTIONS to get started with this Awesome New Hobby.

Craft lovers all over the world love this new innovative hobby "DIAMOND PAINTING " - a fusion of traditional Cross Stitch and Paint By Numbers.

YOU DON'T NEED ANY ARTISTIC OR SEWING SKILLS!!


UNWIND AND RELAX

Diamond painting hobby lovers vouch for this stress buster and anxiety-reducing activity. Switch on your favorite music or podcast and feel the calmness engulf you.


#5DDiamondPainting #AdultDIY #FullDrillRhinestone #Paintbynumbers #AdultColoring #CanvasPainting #DiamondPainting #ArtPainting #HomeDecor #DIYHomeDecor #3DWallArt #RelieveStress

5D Diamond Painting, Adult DIY, Full Drill Rhinestone, Paint by numbers, Adult Coloring, Canvas Painting, Diamond Painting, Art Painting, Home Decor, DIY Home Decor 3D Wall Art, Relieve Stress, Sugar Skull Art, Goth Art, Gothic Art, Painting by Diamonds, Diamond Painting, painting by diamond, 5d diamond painting, Diamond art kit, Gift for her, painting by number, diamond dotz kit, Patterns & How To Kits, Craft Supplies & Tools, Diamond Mosaic Kit, diy hobby kit, crystal canvas kit